The Marvel Cinematic Universe is known as a universe that has made a huge impact on the world of cinema and is constantly full of exciting projects. Marvel movies, presented in collaboration with Sony and MCU in 2024, continue this tradition. These productions, which will be presented to the audience in 2024, are full of many superhero adventures and various stories. This article will provide detailed information about the 2024 Marvel movies. So, if you're ready, let's move on to our guide to Marvel movies and TV series in 2024.
2024 Marvel movies and TV series
Now, let's talk about movies:
Madame Web – February 14, 2024
The first production that attracts attention among the Marvel movies and series in 2024 is Sony's bold production "Madame Web". The movie, which was originally planned for February 16, 2024, will be released two days earlier, on February 14, 2024. One of the remarkable aspects of this production is that it offers a female-led Marvel adventure.
The cast of the movie "Madame Web" offers a very entertaining and attractive selection. It includes star actors such as Dakota Johnson, Sydney Sweeney, Emma Roberts, Isabela Merced and Adam Scott. Detailed information about the roles has not been revealed yet, but rumors suggest that various versions of Madame Web may appear in the movie.
In the Marvel comics, Cassandra Webb, the first Madame Web, is an elderly and disabled woman with abilities that allow her to access the multiverse. Tahar Rahim's sighting in a Spider-Man-like costume on the set of Madame Web may mark the first major cinematic adventure of the Madame Web character in the film, which deals with a major multiverse event. Madame Web's comic book history, the film's all-star cast, and the current popularity of the multiverse in the superhero world make this movie more likely to be a smash hit.
Deadpool 3 – May 3, 2024
Another movie among the 2024 Marvel movies and series is Deadpool 3. "Deadpool 3" will mark the beginning of a new era for the MCU and will reintroduce Fox characters in the lead role of the MCU movie. The film, which was first planned to be released on November 8, 2024, will be released to the audience on May 3, 2024. Despite this postponement, the film is among the most anticipated of next year as a major superhero production.
This movie will not only bring back Ryan Reynolds as Deadpool, but it will also bring back Hugh Jackman as Wolverine, indicating that the actor will be making a big comeback despite previously saying he is quitting the role.
The star-studded cast of "Deadpool 3" includes the returns of Leslie Uggams, Blind Al and Karan Soni Dopinder, as well as the likes of Emma Corrin (The Crown) and Matthew Macfadyen (Succession). The film is based on a script written by Deadpool series writers Rhett Reese and Paul Wernick and is directed by Stranger Things' Shawn Levy. The film will reportedly have a story focused on the multiverse, with Loki's Time Variance Authority and Owen Wilson's Mobius appearing to capture Deadpool.
Venom 3 – June 12, 2024
Of course, when it comes to 2024 Marvel movies and TV series, the Venom series is also of great importance. "Venom 3" will be released on June 12, 2024. So viewers won't have to wait long to answer the mysteries that arise when Tom Hardy's Sony antihero appears in the MCU's "Spider-Man: No Way Home." Venom 3 will not only find out whether this moment is a fun crossover action moment or something more, but it will also shed light on what Sony's Marvel universe will look like.
"Spider-Man: Across The Spider-Verse" also hints that Venom 3 could potentially have a multiverse-leaning story, as its villain is Mrs. He travels to the world of Venom to interact with Chen. What is known about the film is quite limited, and in terms of characters, only Tom Hardy's Eddie Brock is definitely confirmed at the moment. It has been announced that Juno Temple and Chiwetel Ejiofor will play certain roles.
In summary, there are rumors that the "Venom 3" movie may focus on the multiverse. There is not much information about the story, although there is speculation about it. However, the fact that the trailer includes a scene of screaming at a dog figure could point to either a gang of werewolves familiar from the comics known as the Lobo Cartel, or Eddie Brock and Venom hunting down another dangerous symbiote. It's also possible that the trailer is just promising more crazy antihero action.
Captain America: Brave New World – July 26, 2024
Anthony Mackie's "Captain America: A New World," which follows Steve Rogers' journey to succession in "The Falcon and the Winter Soldier" series on Disney+, has been pushed back from its originally scheduled May 3, 2024, release date for July 26, 2024 and its name was also changed from the original title "Captain America: New World Order." This film will be the fourth of Captain America's solo adventures in the MCU, but it will be the first to feature Mackie as Sam Wilson.
Although there is not much information about the official story details, there are some interesting connections to the film. Especially regarding 2008's "The Incredible Hulk." Hollywood legend Harrison Ford is joining the role of Thunderbolt Ross and will replace the late William Hurt in the character. Ross will appear as the film's president, and his daughter Betty, played by Liv Tyler, also returns. Tim Blake Nelson will play Leader, the Hulk villain who is the primary threat to Captain America.
Kraven the Hunter – August 30, 2024
Among the 2024 Marvel movies and series, we have come to a movie that will definitely attract your attention. Kraven the Hunter, the last of the Sony Spider-Man Universe movies, will be released on August 30, 2024. However, this film has undergone a significant postponement from its previously planned release date of October 3, 2023. While this postponement may be a situation that could sabotage the expectation that has already been created for the film, the fact that it will be released later may create a better outcome for this film starring Aaron Taylor-Johnson, which aims to start its own original series.
Kraven the Hunter's story features changes for Aaron Taylor-Johnson's version of a major Spider-Man villain, which could be intended to turn the film into a potential antihero production. This film will be the third installment in one of the most successful franchises of Sony's live-action Spider-Man universe.
Thunderbolts – December 20, 2024
"Thunderbolts" will be released on December 20, 2024. This movie has been postponed by exactly 5 months from the originally announced date of July 26, 2024. The fact that it is set during the Christmas period could be a factor that could lead to a big box office success for "Thunderbolts". Although there is not much official information about the story of the film, there are interesting connections between characters from different corners. Marvel It will enable the film to present an exciting angle.
The Thunderbolts cast includes characters like Yelena Belova (Florence Pugh), Bucky Barnes (Sebastian Stan), US Agent (Wyatt Russell), Taskmaster (Olga Kurylenko), Red Guardian (David Harbour), and Ghost (Hannah John-Kamen). His team will be brought together by Valentina Allegra de Fontaine (Julia Louis-Dreyfus), who has previously appeared in mysterious roles. The film will feature a three-way reunion of the cast of Netflix series "Beef" and will be directed by Jake Schreier, with a screenplay by Lee Sung Jin, who rewrote Eric Pearson.
"Thunderbolts" will be a vital film for the MCU and its future, both in terms of how it will advance the stories of existing characters and how it will respond to audience reaction when it focuses on figures outside the traditional hero roster.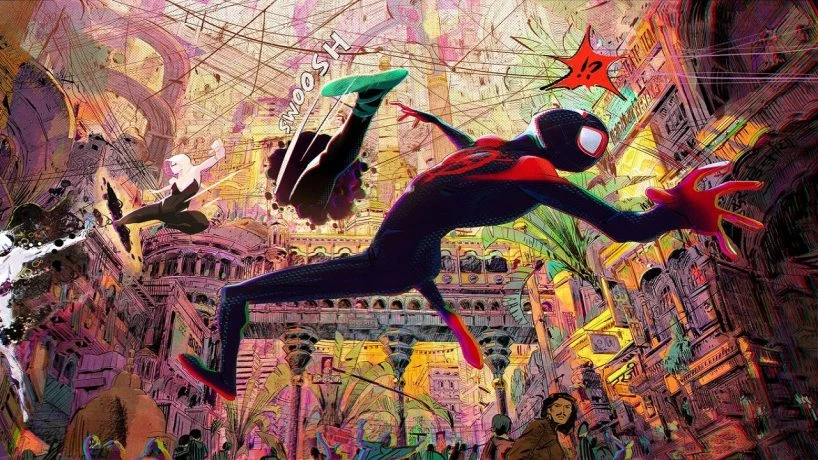 Spider-Man: Beyond The Spider-Verse – Uncertain
Let's talk about a movie that we are very curious about among the 2024 Marvel movies and TV series. Originally conceived as two parts of the same film series, the next two installments of Sony's Academy Award-winning animated Spider-Verse series were split, starting with "Spider-Man: Across The Spider-Verse." The second movie, "Spider-Man: Beyond the Spider-Verse", was originally set to be released on March 29, 2024.
However, it looks like Sony's Marvel movies changes won't be made due to the impact of the SAG-AFTRA strikes. While the SAG-AFTRA strikes did not affect the animators, this film will not meet its original March 2024 deadline as it does affect the actors who lend their voices to the film's characters. Therefore, although there is still a possibility of a release in 2024 for the movie "Spider-Man: Beyond The Spider-Verse", postponing the movie to 2025 may be a possible and even preferable option.
MCU TV Series to be Released in 2024
While the MCU movies in 2024 have seen some changes due to the change of release dates, the MCU TV series that will air in 2024 have also seen some changes for the same reason. There are currently 4 MCU series planned to premiere in 2024. However, the specific release dates of these projects are currently unknown and they may undergo changes even after they are announced.
Agatha: Coven Of Chaos
Spider-Man: Freshman Year
Marvel Zombies
Daredevil: Born Again
2024 looks set to be an exciting year for Marvel fans. These projects will further expand the superhero universe and offer audiences a variety of stories. Which movie or series is most exciting for you, we will only see over time. The constant growth and development of the Marvel Cinematic Universe ensures that these exciting projects have become indispensable for many people.
That's it for our article on 2024 Marvel movies and TV series. However, we have many other articles waiting for you on our website. Now, 2023 Marvel movies You can take a look at our guide article. Moreover, Marvel viewing order It will also work for you. Later, Order of watching DC movies Our guide article is also waiting for you. Also, Star Wars viewing order Let's share our article. Now, we wish you pleasant viewing!